HuniePop 2: Double Date / Ver: 1.03 Steam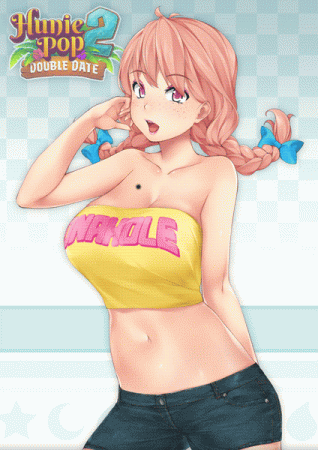 Release Date:
2021/02/08
Censorship: None
Developer/Publisher: HuniePot, Mangagamer
Platform: PC/Windows 32bit/64bit
Edition Type: Original (licensed)
Patches: Not required
Version:
1.03 Steam
English: English
Interface Language: English
Audio Response Language: English
System Requirement: CPU 1.2GHz ;RAM 4GB ; HDD 4GB ; DirectX 10
Description:
An era of darkness and destruction draws near as an ancient evil of limitless lechery, the Nymphojinn, will soon be awoken by a cosmic super-period of unspeakable PMS. Reunite with Kyu, your old love fairy sidekick, and travel to the island of Inna De Poona to develop your double dating prowess and overcome the insatiable lust of the demonic pair.
Feature List:
A blend of old friends and fresh faces make up a twelve character cast, each with their own unique personality, problems and preferences!
Double dates encourage you to split your time and attention between two girls with an all new "Stamina" system!
Revamped gameplay systems create a stronger connection between the "Sim" and "Puzzle" portions of the game!
Loads of new date gifts to give with a wide variety of strategic effects, and plenty of old ones too!
A brand new "Baggage" system that introduces new twists and challenges as you progress on your dates!
Explore the exotic island of Inna De Poona with over twenty touristic tropical locations to visit!
A sweeping soundtrack inspired by a mix of seaside styles including Hawaiian, Caribbean and classic American surf rock!
Thousands of lines of fully voice acted dialog with multiple interactions between compatible pairs of girls!
Unlock new outfits, hairstyles, and sexy CG scenes as you date your way to the top of Mount Nymphojaro!
Cangelog:
Ver.1.0.3
I have added keyboard shortcuts that players can use to change the screen resolution at any time. Pressing "Ctrl+DownArrow" will make the screen resolution smaller and "Ctrl+UpArrow" will make it bigger. I am hoping that this will help some of the players who are having screen resolution issues. I have tested this on a 4:3 monitor that was cutting off part of the game window and using the shortcut keys to make the resolution smaller worked like a charm. I realize it's not a perfect solution but I hope it will suffice for now.
More than a few players have reported that smoothies, unique gifts and/or shoes stopped showing up in the store under the impression that it must be a bug. This actually isn't a bug, but I completely understand the confusion. The availability of these gifts is influenced by how much baggage the player has learned about. If a player notices that these items are not showing up, it just means they need to talk to the girls more and learn about more baggage. This wasn't really explained so I added a special notice at the end of Kyu's baggage explanation scene that makes the relationship between baggage and the store much more clear.
POTENTIAL SPOILERS START
Fixed a bug that was allowing players to unlock post-game "expanded wardrobe" outfits by completing alpha mode dates.
POTENTIAL SPOILERS END
Comments:
No comments yet, you can be the first!
Add comment