Comix Harem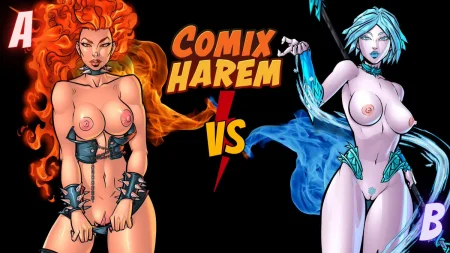 Realese:
2022
Language:
MULTI
Platform:
Browser, Desktop, Mobile
Pornova Likes Comix Harem:
? Lots of famous characters from Marvel's world
? Tons of plot.
? Memorable gameplay and great early game play
? Ability to play online from any device
Pornova Hates Comix Harem:
? Late game turns into a drag, tempting you to buy in-game currenc
A stunning game with a juicy storyline – Comix Harem
This free-to-play RPG takes place in a fantasy world that's filled with lustful superheroes. Your main goal is to recruit the hottest superheroines to join your spicy harem. As you do you'll be rewarded with a ton of sexual prizes in the form of lewd artwork. Each character that you encounter has a phenomenal backstory, and you'll discover more of their stories as you play. The story mode is full of intriguing plots that mix humor and sex perfectly.
Not only do the beautiful women have superpowers, but so does the main character that you control. Your special ability is having a magical cock that these chicks can't seem to get enough of. Aside from loving your dick, the girls also strengthen their abilities the more they have sex with you, hence why every hottie is constantly looking to fool around with you.
Captivating gameplay
Since this game is an idler, all of the combat is automated so you'll have to worry about assembling your harem before battle. Each hottie you have acquired has unique characteristics that make her good against some enemies, so it's your job to create the best team and be victorious. There are different game modes that you can play, but they all play out in a similar fashion so they don't stand out from one another. To play the story mode, you'll have to have enough energy, which you can either purchase with real-life currency, or in-game currency or wait for it to refill on its own over time.
PvP is the only one that can be considered a bit different, as you're actually battling another player and their harem. Despite there being a bit of randomness involved, in general, the game's extremely fair and works exactly as it should. There are always new events on the way, which adds completely new characters that you can obtain by battling with your team of hot babes.
Simple and elegant combat
When it comes to the actual combat, you can either choose to let it play out or you can skip the entire process. If you don't skip and want to watch the actual fight play out, you'll get to see exactly how much damage your superheroines are doing and which ones are weak. The process is extremely simple and it plays out in the same way any other idlers do. In each turn, your girl and the opponent will get one attack after one of your other girls is put on stage for round two. Once either you or the enemy reach zero health, the battle is done and you're free to leave or start a new battle.
Exploring the intriguing world
During your adventure in Comix Harem, you'll be visiting countless places that each have unique women that inhabit them. Your adventure begins in the city, but soon enough you'll be visiting the hero academy, strip club, and tons of other areas in this beautifully crafted fantasy world. Besides the story mode, there are also other areas of the game such as the market. The market's crucial as it contains tons of items you can use to improve your chicks.
The great thing about the world of Comix Harem is that each area of the game has been crafted with details in mind. Every section has a unique look to it that's the complete opposite of what the previous one was so that players always have something new to look forward to. The people you come across in specific sections are going to resemble the area itself, which adds so much to the overall immersion, which is exactly what the entire point of an RPG is.
Phenomenal graphics and sound
What Comix Harem does best is undeniably the art style that it's been created with. There are thousands of hentai games on the scene, but none of them are drawn in the style of a comic. The characters look simply breathtaking, whether they're in a regular position or while having hardcore sex. The attention to detail is astonishing which you'll notice the moment you see your first superheroine on the screen. Besides looking amazing nude, the girls also wear some of the spiciest lingerie and outfits that make them so much more appealing to watch.
In every part of the game, you'll notice how beautiful the areas you're in are, but you'll also hear completely different soundtracks in each section. This is extremely rare to find in games, which just goes to show how much Comix Harem is trying to please its users. On top of having multiple soundtracks, they're all very pleasant to listen to, and that's almost never the case in games with pornographic content in them.
In conclusion
The biggest concern with games such as these is whether or not it's pay to win. Thankfully, Comix Harem can easily be finished without purchasing anything from the in-game store. There are advantages to acquiring microtransactions, but there's no need to do so if you plan on playing for fun and for the raunchy rewards that you'll receive. Every other aspect of the game is amazing, so it's really difficult to find flaws as there are almost none of them. The gameplay's fun and the sex scenes are packed with the kinkiest positions and the hottest woman imaginable, which is all that matters after all.
Overall, the game's definitely one of the best RPG Idlers in the scene, especially in the adult entertainment space. The art style is definitely something that every player will enjoy, whether you're a fan of anime and hentai or ultra-realistic 3D models. If you're a fan of roleplaying games that have a lot of passionate and erotic sex, this is hands down one of the greatest titles you'll come across. Even if you're not that big of a fan, it's still worth playing because of the beautiful rewards you'll get, which are definitely going to make you want to play even more!
Comments:
No comments yet, you can be the first!
Add comment