Seaside Mystery is my new game and it is a visual novel, dating sim game for adults, there a college student after tragic loss of his parents, moves to a small town to start his new life. Later he
Are you interested in "blowjobs"? ...one night. The girls from the 104th Training Corps gathered in one of the dorm rooms. There was a lot of excitement over the topic of boys and sex.
The story is about a mother helping his son learning to sex. Mother love perevoplaschatsya in different costumes - cosplay and hence the name. The game is based not only on dialogue - also on
"Shattered" — an erotic visual novel with rendered 2D graphics, where you play as Blake Blinn, an unlucky guy who had to grow up in slums, but didn't really find his way into thug's life,
Yuu is a girl who has lost her memories. She is mailed into a sadistic house of bondage where she and others are forced (or not) to serve their master, but there are serious consequences for those
Milfcreek is the story of a young man that is about to face the adventure of his life. You travel to a nice little place called Milfcreek, a small country town where milfs and girls are starving for
I'm not sure how old this game is, but it's not on the tracker, so I thought I'd create a thread. After his father's death, Cliff and his half-sister Mina find themselves in the Monster Hunter
In this visual novel, you play as an ordinary 18-year-old boy whose life is about to change forever! That's because you receive a letter inviting you to the oldest academy of magic and wizardry in
A young man was abducted by aliens, but after 1000 years his cryogenic chamber will be found by sex dolls.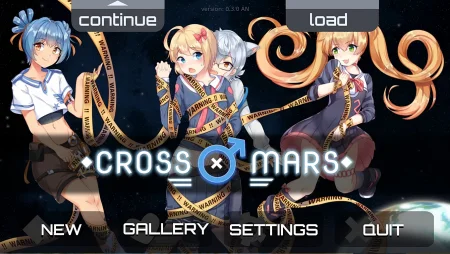 Cross Mars is a new made for the fans of lewd content and Yaoi Visual Novel games. Yaoi is an anime genre used in mangas and hentai as a category for boy x boy content. Visual Novels are comics
Welcome to the world of Cloud Meadow, where islands float in the sky through ancient magics and humankind works alongside monsters to create prosperous civilizations! Play as one of our
Events take place after the end of the original game. You will experience many events that beautifully continue the original stories, expanding the Majikoi universe. Choose one of the girls you