Damon / Ver: 1.4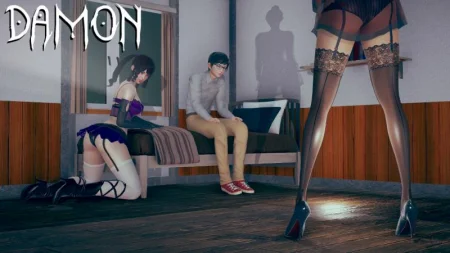 Year of Release:
2023
Release Date:
2023/03/28
Censorship: No / There is a patch to remove
Developer/Publisher: BraverGames
Platform: PC/Windows
Edition Type: Original (licensed)
Patches: Not required
Version:
1.4
Game language (storyline): English
Interface Language: English
Audio: English
System Requirements: OS: Win 7/8.1/10 | CPU: 2.4GHz | RAM: 4GB | DirectX:9.0 | HDD: 2.8GB
Description:
Damon is the story of a quiet young man who lives with his foster family.
On his birthday, he receives a strange gift in the mail... a mysterious doll.
Very soon Damon discovers that this doll has a mind of its own and likes to play some very obscene games!
However, Damon's new toy isn't enough for Damon to play with. She wants to have some real fun... and to do that, she needs to turn Damon's entire family into her own naughty toys!
Damon is an adult adventure game inspired by horror classics like The Omen and Child's Play.
Explore the old house, solving puzzles and using strange abilities to "meet" Damon's family in ways he never dreamed possible!
Although the concept of the game is inspired by classic horror tropes, there's nothing scary here, just perfectly innocent mischievous fun!
The game was made for fun and is given away for free, but if you like it, consider leaving me a tip to buy me a coffee.
Enjoy the game!
https://moondl.com/rikof17tesmi/Damon_1.4.rar.html
Comments:
No comments yet, you can be the first!
Add comment