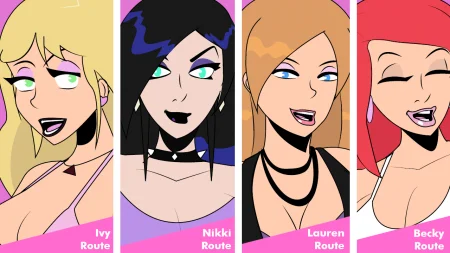 The Big Score is a femdom visual novel/dating sim game. You play as Jason a deadbeat college student who lives with his step mom. Jason rarley goes to class and bums around home all day playing

You live on a small town with your two sisters and the maid of the house, needless to say you are not the favorite family member...​
What if everything you thought you knew was thrown on it's head one day? That's the position you find yourself in. Explore a world in the far future full of history, intrigue .. And debauchery! Grow
The game is parody, fan made of popular anime/manga Dress-Up Darling.
Macro who works as a magic detective. The request that came to him was related to a succubus. A certain town is strange, so I want you to investigate it. Nothing is known other than that the
After working in several small-time jobs and graduating from university, you got offered a semi-decent job in an international trading company. Meanwhile, life throws many opportunities down your
After you die from overwork you must go to hell… unless you agree to sign the contract with the succubus. If you perform it well, you'll get the opportunity to reborn in any universe you wish. What
A young guy is forced to leave his luxurious life in a big city behind and return to a small town of Sunville, located near the ocean shore. He dreams of going back and is mad at his father who
A game of giants (or rather, a visual novel) in which the protagonist (you) travels to a world consisting of various kingdoms opposing each other, which are defended by beautiful giant women called
Tavern fun is a visual novel about your sexual encounter with a elven futa and a barmaid with a dark secret. You are a human, son of Marcus and Ana, from the city of Granz, which is part of the
This game gives you an opportunity to take on the role of a regular guy, who enters a Naruto world by a curious accident. What will happen to him in this world is only for you to decide! You'll be
"Hypocrites are people. They are all like that by nature. Imagine a masquerade ball. A dozen, two, three, a hundred or more people. Dancing, twirling to the rhythm of the music. But all in