Tales From The Under-Realm: Hazel / Ver: Final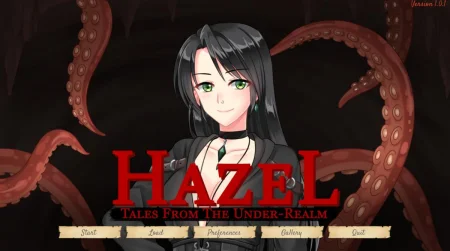 Year of release:
2021
Release Date:
2021/02/05
Censorship: None/I have a patch to remove
Developer/Publisher: Winter Wolves
Platform: PC/Windows
Edition Type: Original (licensed)
Patches: Not required
Version:
Final
Game language (storyline): English
Interface Language: English
Speech Scoring: Unknown / Other
System requirements: OS: Win 10; HDD: 250 MB.
Description:
"Tales from the Underworld: Hazel" is a dystopian, themed, juri-visual novel set in the fantasy world of Aravorn.
A mysterious entity known as the Nameless God serves as the main narrator of the story, possessing the ability to peek into the lives of dead souls and learn what caused them to die prematurely.
In this case, the Nameless God is interested in the fate of a witch named Hazel.
After being captured, she wakes up in a prison somewhere in Aravorn. She is not alone, however. Next to her in her cell sits an assassin named Sasha, who is as deadly as she is beautiful. But can Hazel trust her just because they find themselves in a similar situation?
The alternative is to trust the paladin interrogating her. While this option in itself is far from ideal, Hazel can't help but feel a special connection to Tori.
Or can she really use that connection to escape?
The answer, of course, is no. Hazel ended up in the underworld one way or another. But is that all there is to her story? Do all her decisions lead to death? Or does she have one last trick up her sleeve?
https://moondl.com/9yct74jxucgw/Tales_From_The_Under-Realm_Hazel.rar.html
Comments:
No comments yet, you can be the first!
Add comment