Sakura's Chapter / Ver: 1.0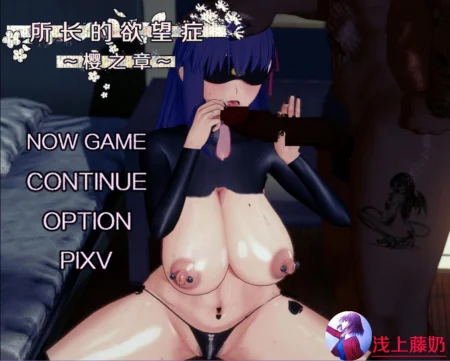 Year of release:
2022
Release Date:
2022/11/14
Censorship: None
Developer/Publisher:(浅上藤奶 / Fujino)
Platform: PC/Windows
Edition Type: Pirate (unofficial)
Patches: Not required
Version:
1.0
Game language (story): Chinese
Interface Language: Chinese
Language: Chinese
System requirements (minimum): OS: Windows 8.1/10/11 | CPU: Core 2 Duo 2.4GHz+ | RAM: 4GB+ | HDD: 2GB | Video: 1280x960+ | picRPG TKool VX Ace RTP
Description:
NTR FGO is an original RPG created by a national developer (Asagami Fuji).
Whether you are interested in FGO or not, the NTR degree of this game is so strong that people cannot resist.
The main man belongs to the super Saiyan green level sufferer, a variety of phone NTR, hidden annihilation NTR more to unprecedented!
Game official Chinese production, CV voice, all H scenes are full of dynamics, black silk elements especially a lot ~.
Overall, is a minotaur elements to the extreme to a powerful game, highly recommended!
Game content:
This is a FGO homo-themed ultimate cuckold RPG role-playing game.
Game content includes female characters Skaha, policewoman Asaka, tavern boss lady, village woman
Study abroad in the distant Saka Rin, and coyote married human wife Mamoru Sakura
Male main always only have to listen to some see no food, every day to see the other H like a fool himself ...
Basically all kinds of tents, phones, doorways, forests, sleepy hidden annihilation play to fly ~.
The game is still in further development, there were dozens of H scenes, 100% pure Minotaur!
All scenes with CV voice and full dynamic animation to perform, very social safety ~
https://moondl.com/4ygbcbgwephz/Sakura_s_Chapter_v1.00________________-_________.rar.html
Comments:
No comments yet, you can be the first!
Add comment