Princess Knight Quest-Anne's Lustful Adventures- / Ver: 1.0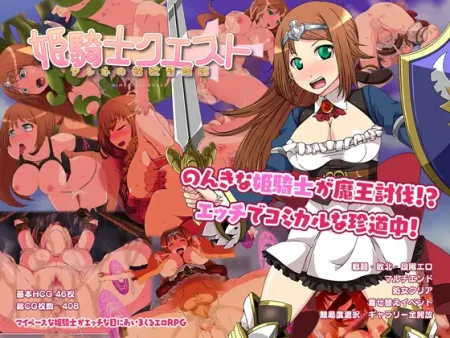 Year of release:
2022
Release Date:
2022/05/27
Censored: No Censorship: No Patch to Remove
Developer/Publisher: KIRINJET
Platform: PC/Windows
Edition Type: Original (licensed)
Patches: Not required
Version:
1.0
Game language (storyline): Japanese
Interface Language: Japanese
Scoring Language: Japanese
System requirements (minimum): OS: Win 7/8.1/10 | CPU:
[email protected]
GHz | RAM: 4 GB | DirectX:9.0 | HDD: 2 GB
Description:
The base tries the noble, the mission tries the hero! The princess knight pop RPG opens here !!
Princess Knight Quest ~ Anne's Lustful Adventure ~ [KIRINJET]
Hundreds of years ago, the Demon King, who planned to conquer the world with monsters, was overthrown by the legendary hero party led by the great female hero Diana Capellini.
Then time passed and the present age-
The news of the resurrection of the Demon King arrives at Anne-Capellini, the princess of the Kingdom of Capellini and the descendant of Diana.
Dressed in a brave costume with her "God's blessing" while being frustrated by her busy affairs, she embarks on an adventure to subdue the Demon King to fulfill her mission as her brave clan. It was.
-What is the fate of the noble princess at the end of the journey?
Comments:
No comments yet, you can be the first!
Add comment