Sissy Maker Deluxe / Ver: 1.6.0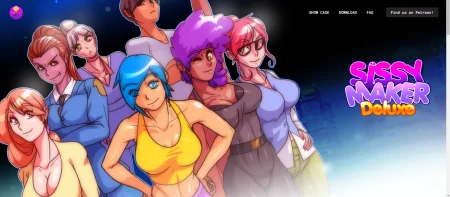 Release Date:
2022/09/24
Release Update:
2023/03/15
Censorship: Missing / There is a patch for removal
Developer / Publisher: Sissy Maker
Platform: PC / Windows
Type of publication: Original (licensed)
Tabletka: Not required
Version:
1.6.0
Game language (plot): English
Interface language: English
Voice Language: Unknown / Other
System requirements (minimum): OS: Win XP/Vista/7/8/10
**1.6.0
Description:
Sissy Maker is an adult point-and-click adventure game. It's a mix of erotic interactive novel and dating sim. You play as, James, a young landlord and his only tenant, Chris. Your objective of the game is to help Chris achieve his dream of becoming a full-fledged transsexual woman (and settle a sizable rental debt at the same time). Sissy Maker offers an engaging storyline and a colorful cast of characters to provide a unique and entertaining experience. The game has multiple endings and endless potential for additional stories, characters, and endings!
Changelog:

Show/hide text
https://moondl.com/i20r7o7esvfr/Sissy-Maker-Deluxe-v1.6.0.zip.html
Comments:
No comments yet, you can be the first!
Add comment