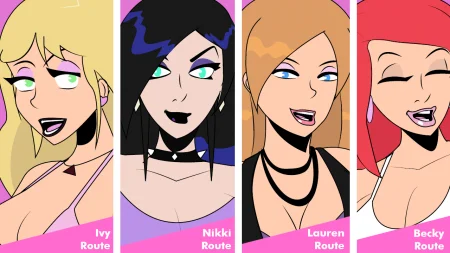 The Big Score is a femdom visual novel/dating sim game. You play as Jason a deadbeat college student who lives with his step mom. Jason rarley goes to class and bums around home all day playing
Love & Sex: Second Base is a dating sim where a geeky guy (hopefully you) gets to be a roommate with two very hot girls and meet others in is daily life. The main purpose of the game his to get
Take control of some beautiful sex slaves in a fantasy world. Teach them how to please men and earn more coins. Rise up the career ladder so you can be trusted to serve VIP clients. Learn the
As a homecoming gift from your loyal henchmen, you are given a beautiful captive to train however you please. She must do as you wish and satisfy you and the others with her body, obeying your every
If you love eroticism, magic and interactive cinema, you should like it! The game is based on turn-based combat and mixed elements. Opening new spells, you can create a template for the battle.
"After the passing of your estranged Great Uncle, you learn that he has left his estate to you in his will. Unsure of what to do, you decide to visit the mansion you have just inherited, only to
Fighting the secret evil E.I.B.D. corporation is Hibiki's mission. Today, as usual, she infiltrates an enemy base, successfully rescuing prisoners and destroying enemies, she finds herself trapped
This is the story of ordinary girl Ayane and her best friend Yui encountering a life-form from another dimension and subsequently becoming magical girls fighting against the darkness of society!
The game is set in a post-apocalyptic world, a mixture of Fallout and the Arabian East. The main character is a mercenary, extracting various artifacts for the queen of one of the states in
Disease, hunger, death... The kingdoms nursed their wounds for seven years after the Great War. Henry has grown up and is prepared to choose his own path. An ancient prophecy is coming true. NTR
This is a game about a young guy (18yo) who is captured by some bad guys and is forced to work in a brothel. Play the game to find out what will happen to him and if he'll become an obedient little
You get a huge mansion, but what if you do not have money? What you gonna do? That's right, seduce and enslave beauties, train them and turn them into whores, earn money on them and live like a king