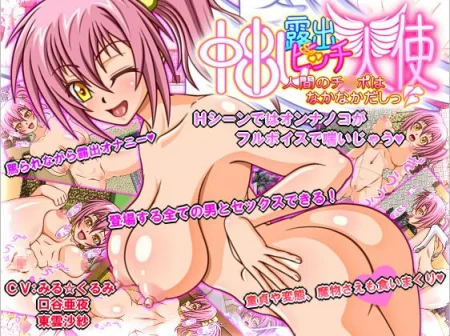 Few children are born in Kaminoko, because most the men are sexually timid. At this rate the village just won't last. The gods send a single angel named Chichiel, a nymphomaniac, to rouse the men.
Protagonist Meer Clifford is a girl attending Cheval Academy. She has always lived next to and is the childhood friend of Tony. One day, Meer is targeted by the newly transferred student Doug. From
Maharu-chan is the village's most popular girl. She's got huge breasts, pink hair ... and a giant debt.
We finally started going out. I had finally achieved happiness, but a simple slip-up leads to that man blackmailing me. There's no going back... The shameful punishment enacted on my body at school
Himari Aozora is an ordinary, if slightly perverse schoolgirl. Her parents are away on a summer cruise, so she'll be staying at her aunt's house in the country for her summer vacation. "A
In a village hidden from the eyes of others resides a clan that holds a power that can not be shown to the world. Their raison d'être is to guard the clan's ancient relic, the Demonic Key. Several
Character create exposure RPG !! Create characters freely! Hairstyle, hair color, face, chest size !? Adventure the world with your favorite appearance Let's dress up a lot of costumes and enjoy
It is a game in which sisters living in a certain town repay the debt imposed by their father by fighting monsters, making requests, and selling their bodies.
This is a summary of the short games that have been released on ci-en. Contains 10 short and fast-ending games. Many girls get embarrassed.
Due to certain ~reasons~, Swordswoman Grace has ended up burdened with a massive debt. In order to pay her dues, she begins dungeon crawling... and reluctantly providing 'services' on the side. As
ONEONE1 presents their latest greatest HCG packed hentai game with a whopping 435+ base CG! 290+ of which are EROTIC! Are you ready for the fap-a-thon of your life!? Humanoid elves, goblins, orcs,
Sabura is a simple dude. He lives, works, and doesn't bother. But one day something happens that Sabura couldn't have expected... A quiet new colleague, Tomoyori Hiiragi, suddenly asks Sabura for a