Dawn Chorus / Ver: 0.27.1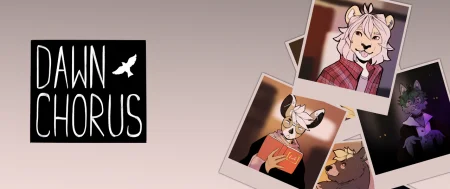 Release Date:
2023-03-30
Developer: Dawn Chorus
Censored: No
Version:
0.27.1
OS: Windows
Language: English
System requirements (minimum): OS: Windows, HDD: 1 GB
Description:
Dawn Chorus is a wholesome and light-hearted non-linear romance furry visual novel set in Norway.
Moving to another country for studies is a huge step, but it is also a chance for a new beginning. No matter how hard you try, you can never really leave your past behind, though. It's been two months since the beginning of the academic year and you are about to take part in a science camp in a remote guesthouse above the arctic circle, and an old friend from your hometown is going too. Will you embrace your past or try to move forward? Will you manage to befriend your fellow camp-goers? And will one of your friendships blossom into something more?​
Developer Notes:

Show/hide text
https://moondl.com/0f7relxg8dk6/Dawn_Chorus-0.27.1-.zip.html
Comments:
No comments yet, you can be the first!
Add comment