Metal & Lace: The Battle of the Robo Babes / Ver: Final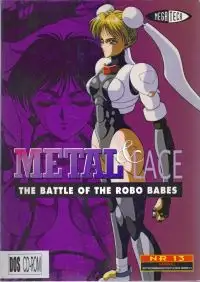 Release Date: 1993
Developer: Forest
Publisher: Megatech Software Website
Censored: No
Version:
Final
OS: DOS (Emulator is required)
Language: English
Voices: English
System requirements: OS Win / HDD ~ 20 MB
Description:
Since its release, it's been a focus of praise and disgust. Nearly banned in Canada and target of hate mail, it's ruffled quite a few feathers. Why? We have no idea. All we know is it's a great fighting game! And a top seller in a major retail chain store. Here's the lowdown. You're a young and restless soul in a politically correct society. The only place where you can bash a few heads without being scorned is MeCha Island. It's a magnet for gamblers, drinkers, gorgeous women and most importantly, fighters. But this ain't no barbaric glorified bar brawl; there are rules. First and foremost, you MUST buy special Robo Armor in order to compete. Besides, you'd be turned into road kill if you weren't adequately protected. Purchasing power-ups and other goodies also comes in handy when battling the Robo Babes, the resident fighters of MeCha. Defeat them and go on to challenge the Ultimate Champions. Are you good enough to beat them? Find out and see.​
Installation:
https://moondl.com/110pvp8zedvw/Metal_and_Lace_The_Battle_of_Robo_Babes.rar.html
Comments:
No comments yet, you can be the first!
Add comment