All Ashes and Illusions / Ver: Final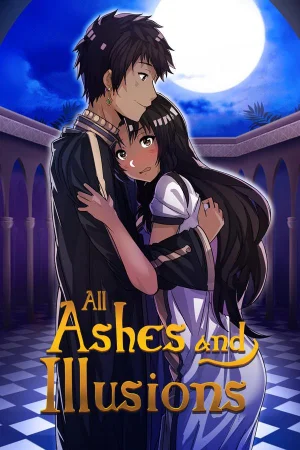 Year of release:
2022
Release Date:
2022/08/03
Censored: No Censorship: No Patch to Remove
Developer/Publisher: Ebi-Hime
Platform: PC/Windows/Linux, MacOS
Edition Type: Original (licensed)
Patches: Not required
Version:
Final
Game language (storyline): English
Interface Language: English
Language: Unknown / Other
System Requirements: OS: Win 10; HDD: 550 MB.
Description:
"Women are snakes and liars, all of them: the more beautiful, the more insidious. Don't let your guard down, or they will ruin you."
Euel was only six years old when he witnessed his mother being put to death for the heinous crime of daring to have an affair. For other women, such foolishness might not have been so deadly, but for Euel's ill-fated mother--wife and queen of the tyrannical King Indra, Khalil--it boded doom.
Watching his mother's corpse decompose in the sunlight, Yuel's father offers him some wise advice: don't trust women. They are, according to Khalil, wicked and treacherous, and excessive attachment to them can end in nothing less than disaster.
Outwardly, Yuel must smooth over his sadness for fear of incurring his father's wrath. After all, kings are not supposed to cry, even future kings like him. Alone with himself, however, Euel turns to his nurse, the good Safiya, for support. Safiya is Euel's only ally in the palace: his father is cold and aloof, his servants respectful, beaten and silent with fear. Without Safiya, Yuel would be all alone...
But she, too, abandons him when Euel becomes old enough to no longer need a babysitter.
Offended and insulted, Yuel waits for nothing until, after a long illness, his father dies, and Yuel inherits the throne and crown in his place.
No longer a young boy--but a grown man--Euel plots to conquer Safiya once again. Unable to forget her and trusting no other woman, Euel cannot imagine life without her. After all, she has promised to stay with him, and Euel, determined to the extreme, is determined to make good on that promise at any cost.
https://moondl.com/np0yrpdoz35y/All_Ashes_and_Illusions.rar.html
Comments:
No comments yet, you can be the first!
Add comment