Rio and the Mysterious Cave / Ver: Final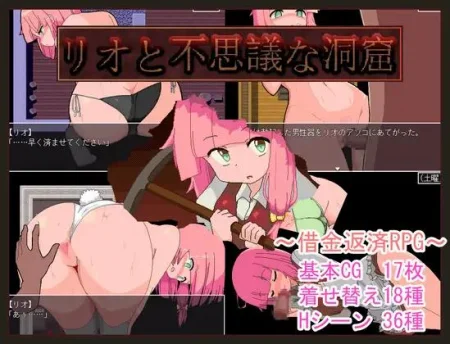 Year of release:
2023
Release Date:
2023/02/26
Censored: Yes
Developer/Publisher: ももいろマンション
Platform: PC/Windows
Version:
Final
Edition Type: Original (licensed)
Patches: Not required
Game language (storyline): Japanese
Interface Language (storyline): Japanese
Voice-over language (storyline): Japanese
System Requirements: OS: Windows 7/8/8.1/10; CPU: Pentium4 2.0GHz; RAM: 512MB; VRAM: 128MB; HDD: ~ 305MB
Description:
One day, the main character, Rio, the daughter of a cook, has a big debt.
It was the scheme of the village chief who wants to have a relationship with Rio.
To pay off her debt, Rio goes to work in a mine where mysterious things can be dug. ...... Read more
How to play the game
In this game, you become the main character, Rio, and your objective is to earn money to pay off your debt.
During the day you work in the mine to find bargains, and at night you work in a dirty store to save money.
You can also give villagers and travelers items they are looking for, and in return they will give you money, items, costumes, etc., so be proactive in your interactions with them.
Recommendations
Easy to play and easy to advance!
Lots of costumes to change!
The main character is cute and easily influenced!
https://moondl.com/nl9degrhg1lx/game.rar.html
Comments:
No comments yet, you can be the first!
Add comment