AURELIA / Ver: 0.28.0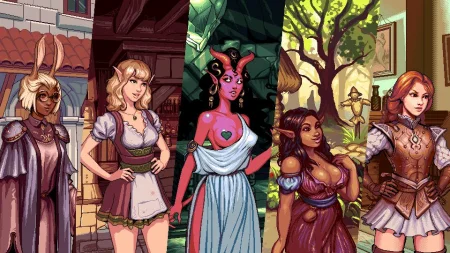 Year of release:
2020
Release Update:
2023/05/10
Censorship: None
Main Translator: Gorb82
Platform: PC/Windows/Android
Edition Type: In Development
Keyboard: Not required
Version:
0.28.0
Game Language: English
Interface Language: English
System requirements (minimum):
OS: Windows/Android
RAM: 64 MB
DirectX: 8.1 or higher
RAM: 512MB; VRAM: 128MB;
Description:
Aurelia it's an adult game set in a fantastic medieval world full of beauty and wonder where you will take the role of a young man that, on a sudden twist of fate, has become entangled with a girl and a mystical amulet.
The game will be a high-quality visual novel, with skill-based minigames, RPG themes, datingSim mechanics, multiple character storylines to unfold and tons of gratuitous sex.
Set yourself for an adventure, my friend!
Change log:

Show/hide text
Extras:

Show/hide text
https://moondl.com/pkhit5ud1mii/Aurelia-v0.28.0_Extra.zip.html
Comments:
No comments yet, you can be the first!
Add comment