SchoolMate / SchoolMate Sweets! / Ver: Final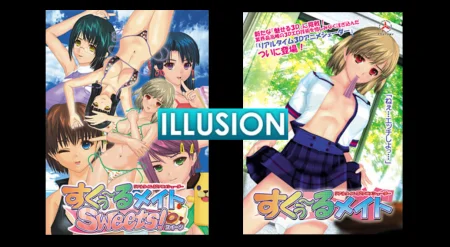 Release Date:
2014-01-01
Developer: Illusion & WORLD PG
Censored: No
Version:
Final
OS: Windows
Language: English
System requirements (minimum): OS: Windows, HDD: 4 GB
Description:
Returning to his home, Kimikage Island, after many years, Himura Kazuki enrolled in the Himeyuri Academy.
Somehow he got forced into joining the "Mystery Seeking Club"...
SchoolMate Sweets!:
- Premium Fan Disc!
School Mate Sweets! is a premium fan disc of School Mate, featuring a lot of erotic scenes.
- Sex in Various Situations!
School Mate Sweets! contains short adventure stories in an omnibus style.
You can enjoy sex with the School Mate characters in a wide variety of situations.
- Photography Mode!
Not only sex scenes, you can take photos of pretty characters.
- Not a Sequel!
School Mate Sweets! is not a sequel.
You can fully enjoy it even if you have not played School Mate yet.
Of course, you can enjoy it more after playing School Mate.
https://moondl.com/uqp50agil2w9/School_Mate.rar.html
Comments:
No comments yet, you can be the first!
Add comment