Sex Ticket ~The Day Women Became Walking Cum-holes~ / Ver: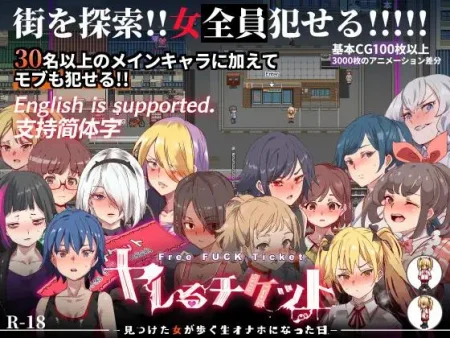 Year of release:
2021
Release Date:
2021/02/01
Censored: Yes
Developer/Publisher: Nyu Kobo
Platform: PC/Windows
Edition Type: Original (licensed)
Patches: Not required
Version:
1.10
Game language (story): Chinese+Japanese+English
Interface Language: Chinese+Japanese+English
Speech Language: Unknown / Other
System Requirements: OS: Windows 8.1/10/11 | CPU: Core 2 Duo 2.4GHz+ | RAM: 4GB+ | HDD: 2GB | Video: 1280x960+
Description:
I never thought this would happen. but I'm getting tired of just jerking off every day. Luckily, my savior comes in the form of a sexy tall lady who gives me a strange ticket, a Sex Ticket. The moment I hand this item to a woman, their pussies get wet and they devote themselves to servicing me!
I may be a complete stranger, but they will pull out my cock and let me them freely!
The possibilities and personalities are endless! I will never get tired of it!
Effective ticket area starts small, but the more pussy I plow, the bigger the radius!
Think of all the places I can use it!
The convenience store, the park, the temple, the cafe...
And no woman would ever blink an eye at my perverted desires!
The ticket even makes them more sensitive, making them moan with pleasure, even if they don't want to!
As the pleasure builds up in them, they begin to change. I could revel in these expressions they make!
The women of this city are now just toys for my amusement, and I just have to find them...
https://moondl.com/0mxcwi4oaqax/Sex_Ticket_ver.1.10.rar.html
Comments:
No comments yet, you can be the first!
Add comment