Pies & Apples / Ver: 0.01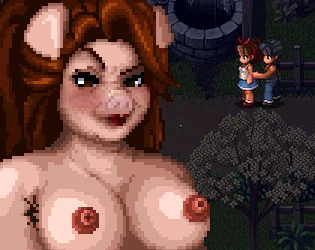 Release Date:
2023-03-22
Developer: Neon Night Time
Censored: No
Version:
0.01
OS: Windows
Language: English
System requirements (minimum): OS: Win / HDD: 200 MB
Description:
Marta(41yo) is a simple housewife who, from time to time, hires temporary workers to do small repairs and collect apples,
the fruit she sells to support the income of the house where she lives with her daughter Stacey.
Rocky (18yo), and Jennifer(18yo), are two young people who met at Marta's house.
Both were hired temporarily to do small day-to-day jobs,
such as weeding, picking apples and doing small repairs.
On a day that seemed to be like any other day, something very unusual happens.
Some of the inhabitants of the kingdom experienced the effect of a physical transformation. Marta,
who also received this "gift of fate",
is going to turn to the witch for help and asks the guys to bring apples to cook a pie for the witch as a gift,
but the situation changes dramatically...
Everyone will immerse themselves in a world full of adventure and challenges, as the solution will not come easily.
Mysteries, intrigues, dangers, pleasures, discoveries, new encounters and much more will be part of these erotic
adventures in the world of of "Pies & Apples".
Developer Notes:

Show/hide text
https://moondl.com/ilgk3gmbv8op/Pies_and_Apples_v00.1NeonNightTime.zip.html
Comments:
No comments yet, you can be the first!
Add comment