Konosuba a pervert on this wonderful world! / Ver: Final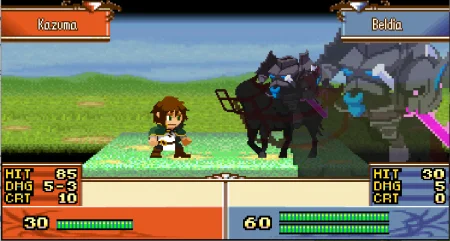 Release Date:
2023-02-28
Developer: Ero-Moses
Censored: No
Version:
Final
OS: Windows
Language: English
System requirements (minimum): OS: Windows, HDD: 200 MB
Description:
Testing GBA Fire Emblem style in Rpg Maker with Konosuba sprites!
For My Dress Up Loser!
No Adult Scenes!
(Please play official version of Konosuba Test that I uploaded.)
I already made a lot of changes according to reviews at the start I am clear what is this game about and if is it worth your time!
I also made last boss easier.
Quest1-2
Autobattle + Auto Healing Partner
Quest 3
MiniBoss SemiAutobattle
Quest4
Minigame type of quest - Learning counter mechanic
Quest5
FinalBoss ActiveBattle
https://moondl.com/9se2ngwvlx37/Konosuba_Test.rar.html
Comments:
No comments yet, you can be the first!
Add comment