Damsels of Vice 2 - Project Mesmer / Ver: Final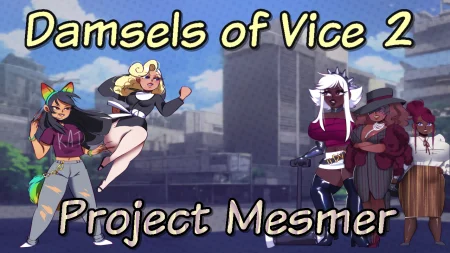 Release Date:
2023-02-10
Developer: The Sub Supreme
Censored: No
Version:
Final
OS: Windows
Language: English
System requirements (minimum): OS: Windows, HDD: 300 MB
Description:
The bustling metropolis, Infinity City, is in grave danger once again as rumors of a dangerous, unknown plot called "Project Mesmer" start to circulate. It's up to two of Infinity City's quirkiest superheroines to step in and save the day... but there's just one problem: their enemies can turn them into giggly, jiggly, sex-crazed BIMBOS! Will they be able to fight against their basest of instincts to conquer evil, or will they give in to become it?
Take control of Sister Fister, the super fighting nun, and Copy Kat, the sarcastic cynic, to discover the secret of Project Mesmer before the entire city fall under the control of the evil Dr. Vice! The dysfunctional duo will fight against numerous foes that will attempt to use things like rope or tape to bind them in dangerously kinky states known as Perils, or even seduce them into becoming bimbos!
Becoming a bimbo, even in the middle of battle, is not the end! Being a bimbo is tough, but it provides each superheroine with some sexy new and altered skills to get the advantage over their enemies. People and events will change depending on whether or not the superheroines are bimbos, so be careful what form you're in while exploring these unique and dangerous levels!
Developer Notes:

Show/hide text
https://moondl.com/5u5y1c9qqrls/Damsels_of_Vice_2_-_Project_Mesmer_v1.02.zip.html
Comments:
No comments yet, you can be the first!
Add comment