Sennyu 2 / Ver: 1.0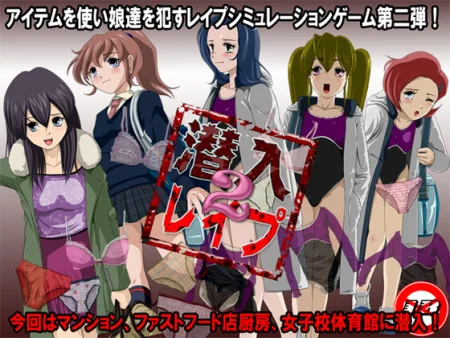 Year of release:
2013
Update Date:
2013/04/01
Censored: Is in the game(s) giveaway
Developer/Publisher: tei enta pi, T-ENTA-P (ティー・エンタ・ぴー)
Platform: PC/Windows
Edition Type: License
Note: Not required
Version:
1.0
Game Language: Japanese
Interface Language: Japanese
Voice Language: Japanese
System Requirements: Windows98/98SE/Me/2000/XP/Vista/7 / HDD: 200 MB
Description:
A one-room apartment of a woman living alone, the player has to infiltrate the gym, the kitchen of fast food restaurants, the girls' school in the early morning.
This is a simulation game in which an unsuspecting woman is raped while taking advantage of items to use instead of each penetration so you don't have a chance to escape.
Wear underwear, for example, after the and first penetration, you can collect items as masturbation. (All 20 kinds).
Having mastered the lure of masturbation, for example, where the bulge of the underwear is, there is a delusion.
Stamina score decreases with ejaculation during masturbation and .
We will end game at that point they can regain their strength depleted by eating and medication, and an erection cannot be that debilitating.
The included and other etching patterns take over all missions.
(The discharge text can be skipped with the mouse wheel or the Ctrl key.)
https://moondl.com/qhiw5h6ztken/Sennyu2.rar.html
Comments:
No comments yet, you can be the first!
Add comment