Sujimon Quest ~KACHIKOMI!~ / Ver: 1.09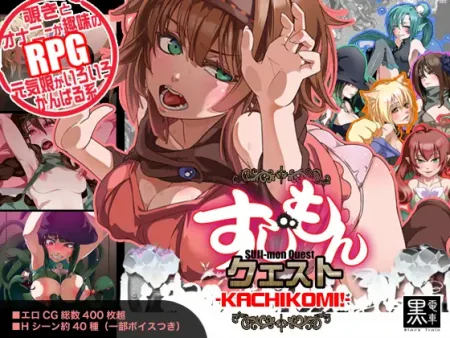 Release date:
2016/10/07
Update Date:
2016/10/14
Censored: Yes
Developer/Publisher: BlackTrain (黒電車)
Platform: PC / WindowsVista / Windows7 / Windows8 / Windows10
Edition Type: Original (licensed)
Keyboard: Not required
Version:
1.09
Game Language: Japanese
Interface Language: Japanese
Scoring Language: Japanese
Minimum System Requirements: OS: CPU Intel Pentium4 2.0GHz ; RAM 512MB ; HDD 489MB ; RPG Tkool VX Ace RTP
Description:
Gaal's tranquil town is in crisis from rampant "Sujimon", or monsters
with a phallic "suji" between the legs. In order to save the town,
Gaal needs to harness the power of the legendary Sujimon...
Her quest to kachi'm all begins!
Read more:
A role-playing game about a girl genki with big boobs who likes to look and touch herself.
Almost every scene with H takes the form of "she's peeping at someone," but..,
but you can be sure her own body gets a lot of attention.......
There are +/- 40 echchi scenes with over 400 erotic CG on the site,
BlackTrain's Sujimon Quest ~KACHIKOMI!
sneak peeks of goofiness and realistic voice acting and
treasure of facial expressions. (lots of ahegao).
Autobiographies: Mikan Nakano, Ao Inukai, Milka Amakawa
Comments:
No comments yet, you can be the first!
Add comment