Rikolo - Diner for Three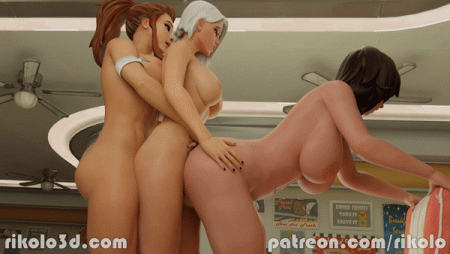 Description:
Rikolo returns with another masterpiece! In this video, futa Ashe and futa Bridgitte fuck a female Mei. In the first scene, Bridgitte is rimming Mei when Ashe appears! They begin to kiss and Mei starts giving Ashe a blowjob while Bridgitte starts fucking Mei in doggy. In the next scene, Ashe is riding Mei in reverse cowgirl while Mei gives Bridgitte a titjob. Mei then turns around to allow Bridgitte to fuck her ass while Ashe fucks her pussy in cowgirl. Following that, a fuck train is created with Mei at the front, Ashe in the middle, and Bridgitte at the back. Next, both Ashe and Bridgitte fuck Mei's ass! The final scene, Mei is sucking off Ashe while Bridgitte masturbates, Ashe cums in her mouth while Bridgitte cums on her face.
I hope you wonderful people enjoy the video!
Guys
Become a premium
for fast downloads. This helps the site publish more good games and 3D cartoons for adults.

Comments:
No comments yet, you can be the first!
Add comment